Thank you! Your request has been received.
WEDDING CEREMONY
A wedding ceremony and a glass of champagne is an elegant European format to tell each other the most important word – "Yes!".
We recommend to choose the garden slope, our Patio or Small Salon for a wedding ceremony. Elegant interiors will create a touching and festive atmosphere and support the celebration stylized by you.
Our shady, flowery garden slope with terraces and a panoramic terrace are effective natural entourage for a wedding ceremony, a welcome cocktail and a unique wedding photo shoot.
The approximate budget for the celebration is:
Garden slope | 30 persons | from UAH 18 000.
Patio | up to 60 persons | from UAH 25 000.
The costs include: mulled wine/champagne, parmesan chips, fruits.
As a gift for the Newlyweds , we offer guest locations of the hotel for a 2-hour photo shoot (excluding services of the photographer).
We will be glad to discuss with you the details of your celebration.
Our Banqueting manager Katerina Misura will help to create a menu and will offer the best options on a locations decoration.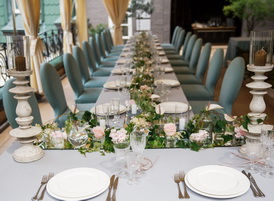 WEDDING BANQUET
OUR BEST OFFERS FOR NEWLYWEDS: