Thank you! Your request has been received.
WEDDING BANQUET
High gastronomic reputation of the Terrace restaurant in the Vozdvyzhensky, its halls with unique interiors for a wedding banquet and our magnificent open locations particularly dispose to holding a wedding celebration.
Newlyweds are always welcome guests in the Vozdvyzhensky. For your special event, the Terrace restaurant can prepare individually created wedding menu, refined drinks and specialty cake from the confectioner, with a possible preliminary tasting.
Banqueting manager of the hotel will offer you specially created options of spaces decoration for a banquet and ceremony, and will help in selection of the emcee and music.
For guests' disposal, the hotel offers:
The Banquet room (98 sq.m) – a banquet up to 80 persons, a buffet setting up to 100 persons
The Terrace restaurant (46 sq.m) – a banquet up to 30 persons, a buffet setting up to 50 persons
A Small Salon (38 sq.m) – for a wedding ceremony, a welcome cocktail, recreation and dances
Chambre (40 sq.m) – a conteprorary area for ceremony, cocktail party (for up 40 persons) or for banquet (for up to 18 persons)
A summer terrace (120 m) – a welcome cocktail up to 120 persons, a wedding ceremony and a photo shoot
Our garden slope with romantic terraces: A Rose terrace, a terrace near a stream and the Welcome terrace, a patio of the hotel – for a wedding ceremony and a photo shoot
Rooms for Newlyweds and guests at the special prices.
We will be glad to provide all guest spaces exclusively for your event.

The Banqueting manager Katerina Misura will help to create a festive menu (from UAH 1500.00, corck fee UAH150/bottle) and will offer the best options on a locations decoration.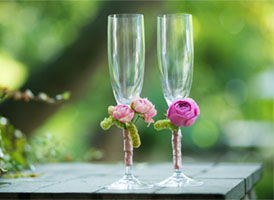 WEDDING CEREMONY
OUR BEST OFFERS FOR NEWLYWEDS: