Thank you! Your request has been received.
SACRAMENT OF PREPARATION FOR THE WEDDING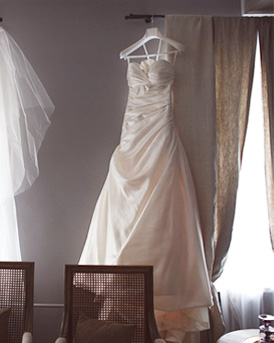 A 2 days set Sacrament of Preparation for the Wedding
A Bride's preparation for the most important day, an effective photo shoot, a room for Newlyweds and special amusement - the first family breakfast, all this is available at the Vozdvyzhensky Boutique Hotel.
1st day:
room "For the Bride" the day before the celebration with a welcome flowers bouquet and candies as a gift from hotel, earle check-in or late chrck out upun availability,
an evening tea drinking for 6 persons in a circle of the closest to you people - in a lobby, in a patio or on garden terraces of the hotel (depends on your preferences and season)
2nd day:
a room "For the Newlyweds" in day of your celebration. Your First Family Breakfast with champagne and a special menu from the Chef can be served to your room
an opportunity to observe all preparatory moments of your celebration organization, for example, preparation of the room for Newlyweds, preparation of a wedding ceremony, decoration of an event banquet table*
provision of the available guest spaces of the hotel and the restaurant for your photo shoot (3 hours)
recommendations on shopping at the boutique Chambre and a special 15% discount for all collections
a special gift from hotel and restaurant: a certificate to celebrate a wedding anniversary with a 30% discount. (on condition of the Wedding banquet order at the Terrace restaurant)
Be my guest!
The cost of the package for 2 days accommodation:
Double executive

Junior Suite

350 euro

390 euro

Exclusive room Club, "Boudoir"
445 euro
2 rooms Suite
470 euro
Deluxe Suite "Oriental Express
600 euro
* Payment conditions: 100% of the advance should be paid not later than 3 weeks before date of arrival. In case of cancellation, the sum is not subject to refund.
Note: A wedding banquet with individually created menu available at the amount of UAH 1500 /person. The banquet menu is paid additionally and isn't included in the price of this package offer.
The offer is available till: December 31, 2020.