Thank you! Your request has been received.
GRILL SEASONS AT THE PANORAMIC TERRACE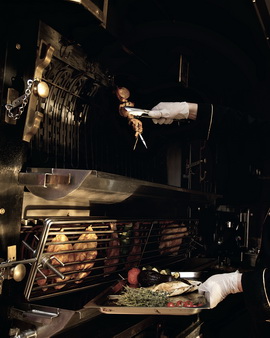 To enjoy a grill unlimited menu with friends on the panoramic summer terrace just make a reservation by: 067 242 90 03!
Every week we offer a new Molteni Grill set / pork, beef, fish or poultry/ accompanied with sauces and fresh vegetables. During the evening from 6 to 9 p.m. you can order unlimited a degutation set or preferred kind of meat or fish. You will also be after the Chef cooking on the Grill Molteni.
This week on September 12-14 you will enjoy a fish sets unlimited.
Molteni is a gastronomic vertical eco-grill allowing cooking different kinds of meat, fish, seafood at the same time while the odors do not intermingle with each other, and the dishes keep their succulence but have the appetizing crisp. Molteni rotisserie at the Terrace Restaurant is the unique one in Ukraine.
Price: UAH 500 per person.
For more information and reservation please call at:
+38 067 242 90 03
+38 044 585 99 33